Argentina the Home Country of Diego Maradona has declared 3 days of National mourning for the Legend of Football
Champions League and Europa League matches to Observe 1min silence in his honour.
Barcelona was the first club outside of Argentina that Maradona played for. He scored 22 goals in 36 appearances between 1982 and 1984.
Another of Maradona's former clubs, Napoli, paid tribute. He played for the club between 1984 and 1991, making 188 appearances.
As a manager, he at the tail end of his career managed teams in the United Arab Emirates and Mexico and was in charge of Gimnasiay Esgrima in Argentina's top flight at the time of his death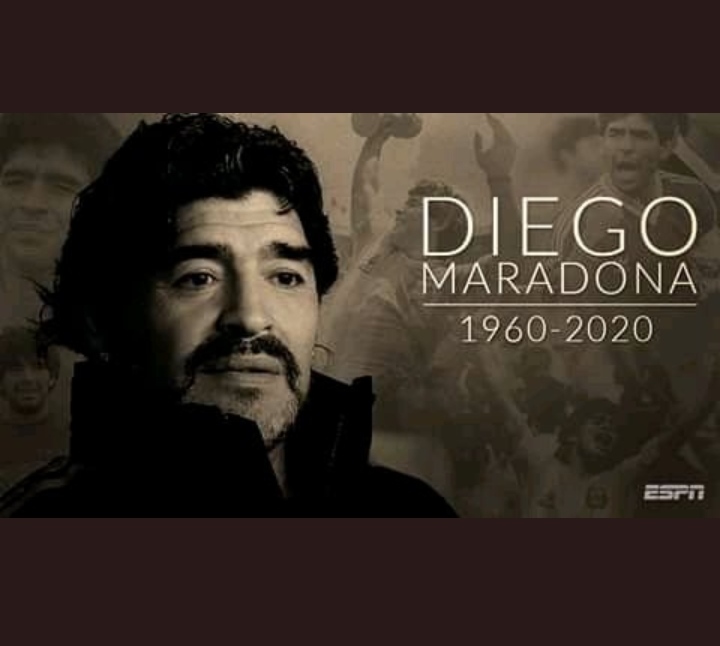 Reactions and Tributes
Brazil legend Pele led tributes to Maradona, writing on Twitter: "What sad news. I lost a great friend and the world lost a legend. There is still much to be said, but for now, may God give strength to family members. One day, I hope we can play ball together in the sky."
Former England striker and Match of the Day host Gary Lineker, who was part of the England team beaten by Argentina at the 1986 World Cup, said Maradona was "by some distance, the best player of my generation and arguably the greatest of all time".
Ex-Tottenham and Argentina midfielder Ossie Ardiles said: "Thank dear Dieguito for your friendship, for your football, sublime, without comparison. Simply, the best football player in the history of football. So many enjoyable moments together. Impossible to say which one was the best. RIP my dear friend."
Juventus and Portugal forward Cristiano Ronaldo said: "Today I bid farewell to a friend and the world bids farewell to an eternal genius. One of the best of all time. An unparalleled magician. He leaves too soon, but leaves a legacy without limits and a void that will never be filled. Rest in peace, ace. You will never be forgotten."
Mitchell Platini from France said "A bit of our past has gone" in a painful reaction.
Fellow Argentine Lionel Messi has said this about the Legend 'Diego is Eternal'
Boca Juniors, where Maradona enjoyed two trances and completed his career, gave "eternal thanks" to their former player.
Paris St-Germain and Brazil forward Neymar posted a photo of him as a youngster with Maradona, calling him a "legend of football".
Rest in Peace football Mentor, A reaction from from mygossipshopcrew.
Kindly Like/ Follow our Facebook & Twitter page :–