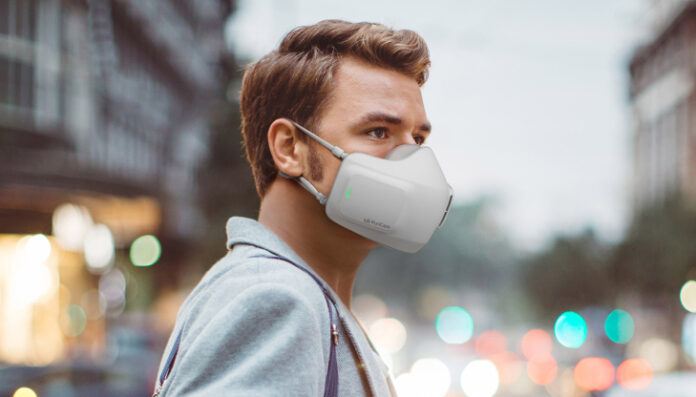 LG took the Bull by the Horn to solve a problem created by the Covid-19 pandemic, by creating a battery-powered air purifying mask. They call it the PuriCare™ Wearable Air Purifier.
In a statement released by LG, the company states that: "LG PuriCare Wearable Air Purifier resolves the dilemma of homemade masks being of inconsistent quality and disposal masks being in short supply. The PuriCare Wearable Air Purifier employs two H13 HEPA filters, similar to the filters used in the company's home air purifier products."
LG's said its PuriCare™ Wearable Air Purifier uses a pair of replaceable filters, which is similar to what you would find in LG's home range of air purifiers; pairing them with battery-powered fans to help you breathe well.
READ ALSO:-Try this breathing exercise to know how healthy you are.
At the press conference held ahead of IFA 2020, LG avoided mentioning Covid-19, however, it was implied that the PuriCare™ Wearable Air Purifier was made in response to the pandemic.
According to an LG News Room post published on how LG's latest advancement in air purifying technology works, it was stated that the:
FEATURES
"High-performance replaceable filters enable PuriCare wearable to supply fresh, clean air indoors and out. With its Dual Fans and patented Respiratory Sensor, LG's wearable air purifier allows users to take in clean, filtered air while the Respiratory Sensor detects the cycle and volume of the wearer's breath and adjusts the dual three-speed fans accordingly. The fans automatically speed up to assist air intake and slow down to reduce resistance when exhaling to make breathing effortless."
The Nose mask device is equipped with a case that helps maintain hygiene in-between uses. Its also with UV-LED light that kills harmful germs.
This case sends notification to the LG ThinQ app on Android and iOS when the filter needs to be replaced for improved performance.
As at the time of this report on this device, LG did not mention when the device would be ready, and the price range, however, the company noted that it would be available in selected markets in the fourth quarter.