Day 13 of the #Endsars protest Tuesday, 20th Oct 2020.
Quite a lot has happened, we have heard of different stories from different families about SARS's impact on their families. At least 12 deaths have been recorded so far among the #SARS protesters, in different parts of the country. Do we call these losses or sacrifices?
Only yesterday, Michael Scofield was in action in White House, Benin City, when Prisoners escaped. A claim was that the prison officers released them and another claim was that prisoners forced their ways out, while some people said it was protesters that forced out the escape.
ALSO READ:-See these Shocking Testimonies against SARS… Unimaginable
With all of these happening, the President of this Noble nation hasn't addressed the nation in person.
Here are the 5-demands of #Endsars.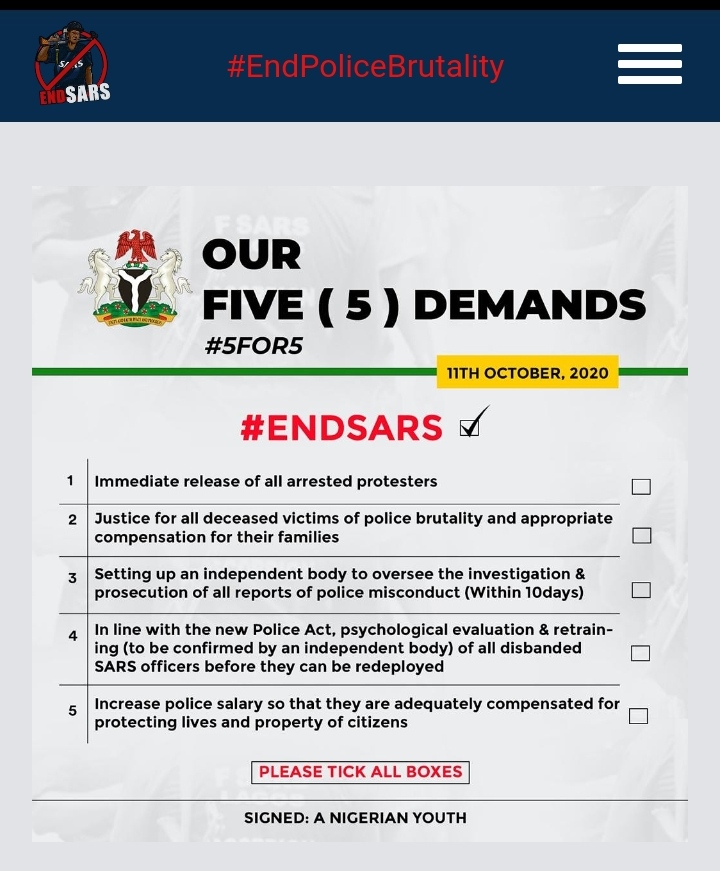 Can the Men in power meet up with these 5 Demands?
However, here is another #Endsars Demands flying around.
LIST OF WHAT NIGERIA YOUTH WANTS FEDERAL GOVERNMENT TO DO BEFORE THEY CAN CALL OFF THEIR PROTEST
October 18, 2020
END SARS
SACK SECURITY CHIEFS AND REPLACE THEM FROM ALL REGIONS
BE PROACTIVE AND IMPROVE ON SECURITY MATTERS
FULL DEREGULATION OIL AND GAS
SECTOR TO ALLOW MORE INVESTMENTS FOR JOB CREATION
IMMEDIATE PASSAGE OF PIB
FULL DEREGULATION OF POWER SECTOR TO ALLOW INVESTMENT CAPITAL FLOW TO GENERATE, TRANSMIT AND DISTRIBUTE MORE POWER AND CREATE JOBS
SHOULD HANDS OFF PETROLEUM PRICING TO ENABLE FREE MARKET DETERMINATION OF PRICING
CLOSE OUR NORTHERN BORDERS TO STOP FREE ENTRY OF FULANI HERDSMEN AND BANDITS
INCLUSIVE GOVERNMENT FOR ALL TRIBES AND REGIONS OF NIGERIA WITH 50% YOUTHS IN CHARGE OF GOVERNANCE
ALLOCATE MORE FUNDS TO EDUCATION SECTOR TO PROVIDE BETTER TEACHING TOOLS AND TO PAY BETTER SALARIES TO END ASUU STRIKES
CHANGE OUR ACADEMIC CURRICULUM TO REFLECT MODERN DAY REALITIES
ALL POLITICIANS SHOULD BE PLACED ON MINIMUM WAGE TO ATTRACT GENUINE PUBLIC SERVANTS
MIGRATE TO 100% ELECTORAL REFORMS WITH ELECTRONIC VOTING TIED TO OUR BVN AND GSM
RETURN NIGERIA TO REGIONAL GOVERNANCE STRUCTURE OR RESTRUCTURE THE COUNTRY AND EMBRACE TRUE FEDERALISM. STATES AUTONOMY MUST BE PARAMOUNT.
DISBAND THE BI-CAMERAL LEGISLATURE AND ADOPT UNI-CAMERAL. LEGISLATION SHOULD BE ON PART-TIME
IMMEDIATELY REFORM NIGERIA POLICE FORCE AND LET EVERY STATE OR REGION CREATE ITS OWN POLICE SERVICE
NO MORE BUDGET FOR RUNNING PRIVATE AFFAIRS OF ELECTED AND APPOINTED PUBLIC SERVANTS
ENTHRONE UNIVERSITY EDUCATION AS MINIMUM QUALIFICATION FOR PUBLIC OFFICE HOLDERS AT ALL LEVELS OF GOVERNMENT FROM PRESIDENT TO LOCAL GOVERNMENT AND WARD CHAIRPERSONS
STRIP EX-GOVERNORS AND ALL ELECTED AND APPOINTED PUBLIC SERVANTS OF ALL BENEFITS AFTER OFFICE.
INCREASE SALARIES OF OUR DOCTORS, NURSES, TEACHERS, POLICE, MILITARY OFFICERS, AND CIVIL SERVANTS
GOVERNMENT SHOULD HANDS OFF OWNERSHIP AND MANAGEMENT OF BUSINESSES AT ALL LEVELS.
NAME AND SHAME LOOTERS AND MAKE CRIMINAL OFFENDERS, AND LOOTERS FACE TRIAL IN THEIR HOME STATES AND VILLAGES TO SHAME THEM AND THEIR FAMILIES
STOP FOREIGN MEDICAL TRIPS FOR PUBLIC SERVANTS. LET THEM BE TREATED HERE IN NIGERIA. WHEN LAST DID YOU HEAR AMERICAN PRESIDENT OR BRITISH PRIME MINISTER VISIT NIGERIA FOR MEDICAL TOURISM?
THERE MUST BE GENUINE POPULATION CENSUS THAT TRULY REFLECT OUR TOTAL SUMS
THERE SHOULD BE HOUSE CENSUS THAT REVEALS OWNERS OF ALL PROPERTIES IN NIGERIA.
26.THOSE THAT SCHOOLED IN ABROAD SHOULD NOT BE GIVEN SPECIAL PRIORITY OVER THOSE THAT SCHOOLED IN NIGERIA.
ONE YEAR OD SERVICE BY YOUTH CORPS SHOULD BE ONE YEAR OF ACQUISITION OF TRADE WORK OR ONE YEAR OF MILITARY TRAINING.
ANY OFFICIAL CAR GIVEN TO ANY WORKER SHOULD BE CONVERTED TO LOAN AND EACH USER OF THOSE OFFICIAL CARS SHOULD BE RESPONSIBLE FOR FUELING AND MAINTENANCE.
LET ANY CORRUPT GOVERNMENT OFFICER FORFEIT ALL THEY EVER HAD TO GOVERNMENT WHEN FOUND GUILTY.
GOVERNMENT SHOULD STOP FUNDING ANY PILGRIMAGE AND NO MORE GIFT TO ANYONE FROM GOVERNMENT COVERS.
THERE SHOULD BE IMMEDIATE OVERHAULING OF ALL NIGERIA ROADS
NO MORE QOTAS SYSTEM IN EDUCATION AND NO MORE EDUCATIONAL DISADVANTAGE STATE OR AREA. EVERY PART MUST BE TREATED AS EQUAL.
ANYONE CAUGHT IN ELECTORAL MALPRACTICES MUST BE IMPRISONED TO NOTHING LESS THAN 20 YEARS.
CREATION OF AGRICULTURAL SETTLEMENT IN ALL PARTS OF NIGERIA AND PRISONERS SHOULD BE MADE TO SERVE THEIR SENTENCE THERE.
ANYONE CAUGHT AS KIDNAPPER, 419, YAHOO YAHOO SHOULD BE SENTENCED TO NOTHING LESS THAN 30 YEARS SERVING THE TERMS IN GOVERNMENT FARM SETTLEMENT.
ANYONE WHO KILLS OTHER SHOULD BE KILLED WITHOUT OPTION OF FINE OR IMPRISONMENT.
… THE YOUTHS HAVE SPOKEN, NOTHING LESS BUT MORE ARE NEEDED.
Can the Federal Government meet up with these demands?
What's your opinion on this?
Kindly air your Comments below. Thank you