The breakdown of the salary for each rank in the Nigeria Police Force (NPF) has been exposed amid the ongoing #EndSARS protests in the all the states in Nigeria.
Mygossipshopcrew said that an image showing the police salary for each rank in the Nigeria Police Force (NPF) came out on the internet following a request made by #EndSARS protesters for police salary to be increased.
Mygossipshop understands that protesting youths in Nigeria are agitating for the end to Police brutalization and extra judicial killings of Nigerians. The protesters have been on the streets for more than a week now, protesting the brutalities, humiliation, and extortion of Nigerians, especially the youths.
The protesters demanded an end to the Special Anti-Robbery Squad (SARS), a police unit under the Force Criminal Investigation and Intelligence Department headed by the Deputy Inspector General of Police Anthony Ogbizi, using a hashtag: #EndSARS.
The Inspector-General of Police (IGP) Mohammed Adamu on Sunday 3rd of October disbanded SARS following a widespread protest from Nigerians worldwide.
The #EndSARS protesters are insisting that the Federal Government should "increase police salary so that they are adequately compensated for protecting the lives and property of citizens."
Here is the police salary for each rank.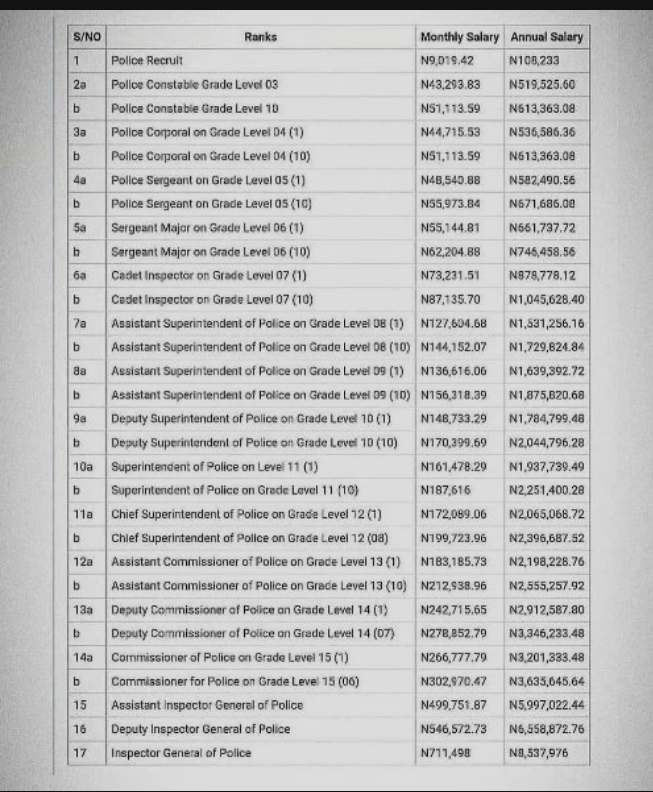 What do you think about this, let's see your comment below.